We offer general pet medicine and surgery including general preventive and wellness care.
Our service ranges from important wellness care for the young puppy or kitten to annual health exams and recommendations for your family pet as it ages. Vaccinations for pets start at approximately 6 weeks of age and are followed by vaccination booster protocols. Annual exams offer services including parasite fecal floats, Heartworm tests, flea/tick prevention and other services.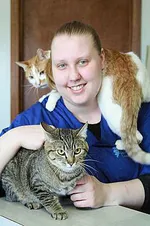 The clinic offers full dental procedures which includes dental scaling and cleaning, periodontal pocket depth assessment and treatment, x-rays, tooth extractions and polishing all utilizing ultrasonic dental equipment.
The in-house lab offers small and large animal blood work equipment, including chemistry, hematology, electrolyte and T4 testing, in addition to blood testing kits, centrifuge, microscopic cytology tests and referral laboratory services. We have ultrasound and x-rays services, gas anesthesia machines/monitoring equipment for surgical procedures. Our in-house laboratory aims to facilitate efficient diagnosis for our patients and clients.
Elective surgical procedures, including spays and neuters are offered. The clinic also provides general soft tissue surgery, in addition to selective orthopedic surgical procedures.
Cooperstown Veterinary Clinic provides emergency care in all the areas listed above and can be reached on the after hours phone line.